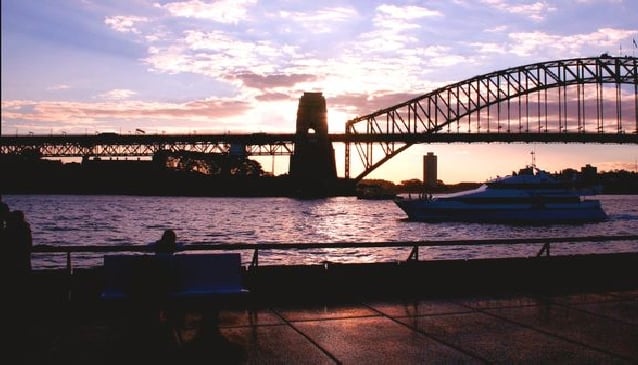 Sydney on a Shoestring
Sydney
Various words spring to mind regarding Sydney, that gorgeous city basking on Australia's southeast coast. Exclusive, extravagant, elegant, elaborate, exquisite – or expensive, to blunt all those E's down to a budget traveller's perspective.
But that is only half the story. In this article we'll tell the other half, revealing things to do in Sydney without bankrupting yourself in the process.
Attractions
Unless you're exceptionally adept in the art of blagging, the chances of seeing a free show at the world's most famous concert building are somewhat limited. But this is no cause for alarm: unlike the Sistine Chapel, Sydney Opera House is famous for its exterior rather than interior, and to see this is completely free. To get up close and personal, you can wander along Circular Quay and up the steps to the forecourt, which is the only place where you can properly appreciate the staggering enormity of the complex. And if you're intent on going inside – you know, just to say you've done it – there are some rather plush toilets at your disposal just inside the main entrance.
Here's a question worth considering: What's the difference between walking across Sydney Harbour Bridge and walking over it? Answer: $180 AUD. There are other differences, but like the italicised words, they're marginal. Our point is that you could either pay the above sum for a gruelling group walk over that monumental steel arch, or you could pay absolutely nothing for a much less gruelling (and much more horizontal) walk alongside the road that runs underneath it, at the same time enjoying practically identical views of the city skyline. Think about it.
So you've seen the city's big hitters, but what to do with the rest of your morning? A good place to start is the Royal Botanical Gardens, a 74-acre, beautifully cultivated public space (look out for the signs saying: "Please Walk on the Grass") full of native and foreign flora. Making up part of The Domain – a large, grassy hillock just east of the Opera House – the gardens are as popular with tourists as they are with locals, offering a tranquil respite from the bustling CBD. Keep an eye out for the giant fruit bats that populate the area; with their three-foot wingspans they are extraordinary creatures, at wonderful odds with their urban surrounds.
Sydney boasts far more than its fair share of sun, sea and sand, and as all of it is just as nature intended – free – you'd do well to make serious use of it. Bondi Beach is the most famous, but keep in mind it is just one of hundreds of immaculate sandy stretches that line Sydney's harbour and outlying coast. Other popular options include Manly, Bronte and Coogee, but for an escape from the crowds, check out this article on the city's lesser known beaches.
Culture
Sydney is brimming with culture, not least in its numerous museums and galleries. Happily for our theme, many of these are free to enter. An appropriate place to kick things off is the Rocks Discovery Museum, located in The Rocks, an area of significant historical interest. Indigenous people inhabited this region for thousands of years before the white settlers showed up in 1788. As was customary, the natives were given their marching orders and the new arrivals claimed the place as their own. The Discovery Centre tells this story in considerably more detail, as well as displaying old photographs and archaeological artefacts found in the area.
The free-to-enter National Maritime Museum might provoke some interest if you're eager to unravel the history of the Australian Navy, and to learn more about the country's trade with America, as might the Mystery (or is that Museum?) of Contemporary Art, if you enjoy reading captions that tell you why the meaningless thing you're beholding is in fact full of (highly, highly dubious) meaning. If you'd like to look at some art that isn't beyond a sober realm of comprehension, the Art Gallery of New South Wales comes highly recommended – and yes, it's free.
Moving on, the striking St Mary's Cathedral is worth an hour or so of your time. Constructed in 1930, the Gothic Revival building, located on College Street, throws a welcome dose of history into an area otherwise dominated by skyscrapers, and once inside, you'll find it hard not to be impressed by the soaring ceiling and stained glass windows. The cathedral is dedicated to the Catholic faith, so if you choose not to donate when entering, clear your conscience by doing a confessional – win-win.
Other (free) points of interest include Government House, which amongst other things deals with contemporary politics and is dotted with art and furniture created by Australia's finest, and Customs House, which once served as the gateway for all Australian trade and is said to have been built on the site where the indigenous folk stood and watched the First Fleet moor up in 1788.
Events
Sydney's calendar is swarming with great events. Most are either completely free – or at least offer a variety of free activities – and frankly there are so many going on you'd be hard pressed to avoid one. If any of these major ones pique your interest, click here for more detailed information:
Sydney Festival (January) Celebrating all things Sydney, this festival runs throughout January, presenting local and international talent in every genre you can think of.
Australia Day (26 January) Bursting with what are now legendary events, Australia Day in Sydney is an unforgettable experience. Click here to find out why.
Mardi Gras (February/ March) The world's biggest gay festival is an outrageous and brilliant example of flamboyant liberalism at its very best. Truly unforgettable.
Vivid Sydney (May/June) Thought the Sydney Opera House was impressive? Wait till you've seen it graffitied with fantastical light displays under a night sky.
Sydney Film Festival (June) Enough said.
Sydney Design (July/August) A celebration of Australia's finest artistic talent, this two-week festival presents a plethora of events and exhibitions across the city.
Art About Sydney (September/October) A perennial favourite, this month-long festival sees Sydney subjected to some of the most creative artistic minds in the world.
Sculptures by the Sea (October/November) Thisutterly brilliant, 3-week event sees a variety of wacky sculptures erected along the walkway between Bondi and Coogee Beach.
Which, incidentally, brings us rather neatly to our final section…
Getting Around
With its heavenly year-round climate and relatively compact centre, Sydney is a city more enjoyable than most for exploring on foot. Darling Harbour makes for a pleasant stroll (especially at night) as does Kings Cross (especially not at night). You could, however, preserve your walking legs while in the city centre (use the free shuttle bus that cruises around the CBD) and employ them for more impressive endeavours, such as the Sydney Harbour Walk. This epic stroll covers 16 miles – and no less than 28 miles of optional detours – and leads you past all the harbour's grandest landmarks. The walk takes 8 – 10 hours and can be lessened considerably if you divide it up using public transport.
For something a little less extreme, the 3.5 mile walk between Bondi and Coogee Beach is lots of fun and serves up lovely ocean scenery, not to mention great beaches along the way.
It is with a heavy heart we bring you this next paragraph, but we couldn't avoid it forever. So far, you may have noticed, every single thing we have told you about is free. But unfortunately, you really can't say you've been to Sydney until you take a boat trip on the harbour. It is far and away the best way to appreciate the stunning location of the city, and it can be done very cheaply. We'd recommend either taking the Manly Ferry from Circular Quay – a 30 minute cruise that takes you to Manly Beach – or the ferry from Watsons Bay to Woolloomooloo.
There is an alternative – swimming – but due to various toothy marine creatures that inhabit our sparkling water, we would gravely urge you to abstain.
Just one last thing – cheap eats can be found in the food markets in The Rocks (try the barbecued salmon or paella) and if you're heading to a restaurant or café, swing by the bottle-o (English: off licence) first to make the most of Bring Your Own (BYO) policies.
For more information on the Harbour City, come see us at My Guide Sydney for a comprehensive guide, packed with useful tips and advice, all compiled by local experts on the ground.
Will Jones, My Guide
August 2011